Sarah Reinhard on The Catholics Next Door
Sarah Reinhard will be interviewed on The Catholics Next Door with Greg and Jennifer Willits this Friday, February, 2012. Listen for Sarah at 2:20 EST discussing her newest  book. The Catholics Next Door are on Sirius Radio channel 129, The Catholic Channel, Monday through Friday from 1:00 to 4:00 EST.
THE PROMISE OF HOME: Stories of British Home Children
Rose McCormick-Brandon is chronicling the stories of the British Home Children, children sent to Canada as indentured servants from 1940 to 1970. Rose created The Promise of Home website to shed light on this period of Canadian history when approximately 100,000 to 130,000 children were shipped to Canada to work on farms and in households as indentured servants until age 18. Telling their stories and posting their photos is, in Rose's view, "the best way to acknowledge the difficulties the children faced, and to applaud their strength and show gratitude for the contributions they have made to Canada." Approximately 10-12% of the Canadian population has a home child in their family tree. 
Rose is looking for stories about these children and encourages readers to send in their own stories. You can reach her at littleimmigrants.wordpress.com on the Contact Me page.
Rose is also writing The Promise of Home, a novel that follows three British Home Children beginning when they board ship in Liverpool in 1912. Before landing in Canada, the three siblings, Edward, Emily and Grace, promise that no matter what happens in Canada, they will find each other when the indentured service of the youngest, Grace, ends and make a home together. Edward, the oldest, is determined to return to England and reclaim their mother's house. After landing in Halifax, Edward is sent to Toronto and his sisters to Marchmont in Belleville. There, sickness separates the girls. Emily stays in Belleville, Grace is sent on a long train ride into the wilds of northern Ontario. In their Canadian home placements, each child experiences challenges. Besides prejudice and loneliness, they face life-changing decisions that threaten to unravel the threads of their promise.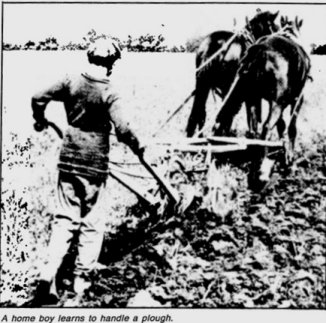 In Rose's research, she found that most teenagers in Canada have no knowledge of the British Home Children.  Other home child advocates find similar results when they speak at schools and organizations. She believes one major reason for this is that many of the home children didn't acknowledge their roots because they were ashamed. Rose's grandmother, a home child, never spoke about her life in England to any of her children or grandchildren. However, her grandfather knew when he married her, and her brother searched and found her in their twenties. He returned to England at least once to visit relatives. Rose gained more information from her great-uncle than from her grandmother. "He had a much happier experience in early life in Canada than she did."
"Many Canadians don't know that they are the offspring of home children until they do an ancestry search," states Rose. "This was the experience of Sean Arthur Joyce. His grandfather's story is published on The Promise of Home site. Most agencies who sent children from Britain were connected to churches. I know of a Catholic organization that sent boys to western Canada. The organizations that weren't connected to churches were mostly run by people of strong faith in God. Thomas Barnardo is the most well known of these. His motto was to turn no child away. His organization continues in the UK today. Another of the larger sending organizations was the Annie MacPerson homes. It was this group that sent my grandmother to Canada."
"Some families of home children feel angry about the "forced" immigration," writes Rose. "They even suggest the children were kidnapped. This may be true in isolated circumstances but I've read no reliable information about anything sordid. England was stuck in severe poverty. Parents begged orphanages to take their children because they couldn't feed them. In other cases, parents became sick and unable to work, or as in my grandmother's case her parents died and a step-father sent her and her siblings to an orphanage."
"Generally, British Home Children became grateful to live in Canada. But, the road to gratefulness was paved with hard work and tears."
If you have any information on British Home Children or know of one in your lineage, please contact Rose McCormick-Brandon at The Promise of Home site. The first post, "Little Immigrants: Their Contribution to Canada is Significant," gives information on her life-long interest in British Home Children. Rose's grandmother's story, Grace Griffin Galbraith, is the first one posted on the site. "She is my inspiration," states Rose, but "Many other stories will be published on this site." 
You can also find Rose at her blog, Listening to My Hair Grow: enjoying God and his creation.